This is one of my favorite recipes. We especially love these crumbled and added to a spinach salad and even yummier, greens and all the fixin's for a Tex Mex salad. They are really delicious and especially good for you. Did you know that black beans are full of fiber, which is essential in keeping your cholesterol in check? It helps in the bathroom too, if you know what I mean!?! They are excellent for keeping blood sugar levels level and make you feel fuller, longer. Also, they are one of the best foods providing a huge amount of your daily needs of folate. Folate is especially important for child-bearing women in the prevention of neural tube defects, such as Spina Bifida.
So go ahead and enjoy black beans in any form. This is our favorite and it may just become yours too!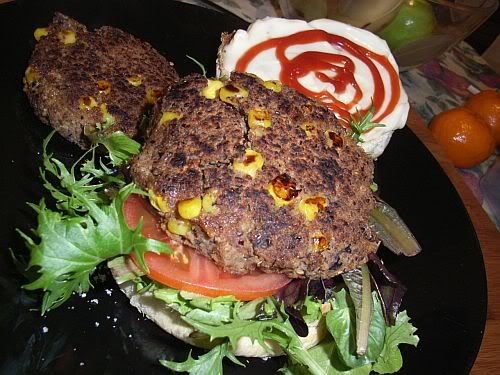 (photo courtesy of Photobucket.com)
Black Bean Burgers
1 (16 ounce) can black beans, drained and rinsed
1/2 green bell pepper, cut into 2 inch pieces
1/2 onion, cut into wedges
3 cloves garlic, peeled
1 egg
1 tablespoon chili powder
1 tablespoon cumin
1 teaspoon Thai chili sauce or hot sauce
1/2 cup bread crumbs
If grilling, preheat an outdoor grill for high heat, and lightly oil a sheet of aluminum foil. If baking, preheat oven to 375 degrees F, and lightly oil a baking sheet.
In a medium bowl, mash black beans with a fork until thick and pasty.
In a food processor, finely chop bell pepper, onion, and garlic. Then stir into mashed beans.
In a small bowl, stir together egg, chili powder, cumin, and chili sauce.
Stir the egg mixture into the mashed beans. Mix in bread crumbs until the mixture is sticky and holds together. Divide mixture into four patties.
If grilling, place patties on foil, and grill about 8 minutes on each side. If baking, place patties on baking sheet, and bake about 10 minutes on each side.
And just so you know, a fantastic substitute for making your own are these little beauties:
Head on over to
Blessed With Grace
for other Tempt My Tummy recipes!! And catch me at Blissfully Domestic as well!!